THE FACTS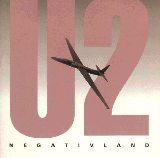 ---
August 20, 1991: SST Records releases a CD single by Negativland called "U2", a tape-collage parody of U2's "I Still Haven't Found What I'm Looking For" featuring sampled and scrambled portions of the U2 song itself and a found tape of radio personality Casey Kasem losing his cool. As part of the joke, the CD packaging features the title--the letter "U" and the numeral "2"--largely and prominently with the attribution "Negativland" in much smaller letters below it.
October 5, 1991: two weeks later, a federal judge issues a temporary restraining order at the behest of Island Records and Warner-Chappell Music. "Preferring retreat to total annihilation," Negativland and SST immediately capitulate to every demand. These demands are:
Everyone who received a copy of the record--reviewers, record stores, radio stations, etc.--must be notified to return it. If they fail to comply, they may be subject to penalties "which may include imprisonment and fines". Once returned, the records will be forwarded to Island for destruction.
All of SST's on-hand stock of the record--in vinyl, cassette, and CD--is to be delivered to Island, where it will be destroyed.
All mechanical parts used to prepare and manufacture the record are to be delivered to Island, presumably also for destruction. This includes "all tapes, stampers, molds, lacquers and other parts used in the manufacturing" and "all artwork, labels, packaging, promotional, marketing, and advertising or similar material."
Negativland's copyrights in the recordings themselves are assigned to Island and Warner-Chappell. Negativland no longer own what they have created.
Negativland and SST must pay $25,000 and half the wholesale proceeds from the copies of the record that were sold and not returned. Estimated cost to Negativland is $70,000--more than they have made in their 14 years of existence.
---
last update 9/21/99

Reign of Toads PO Box 40498 Albuquerque NM 87196-0498 USA
info@rtoads.com